Interview with Tom Hirayama: "In Europe, people do not live to work, they work to live!"
Working as an expat in another country – this is everyday life of many SEKISUI employees. Would you like to know what it is like to work in a foreign country and experience the difference between Japan and Europe? We talked to Tom Hirayama, expat and currently working for SEKISUI CHEMICAL GMBH in Düsseldorf, Germany, and asked him about his expat life.
---
---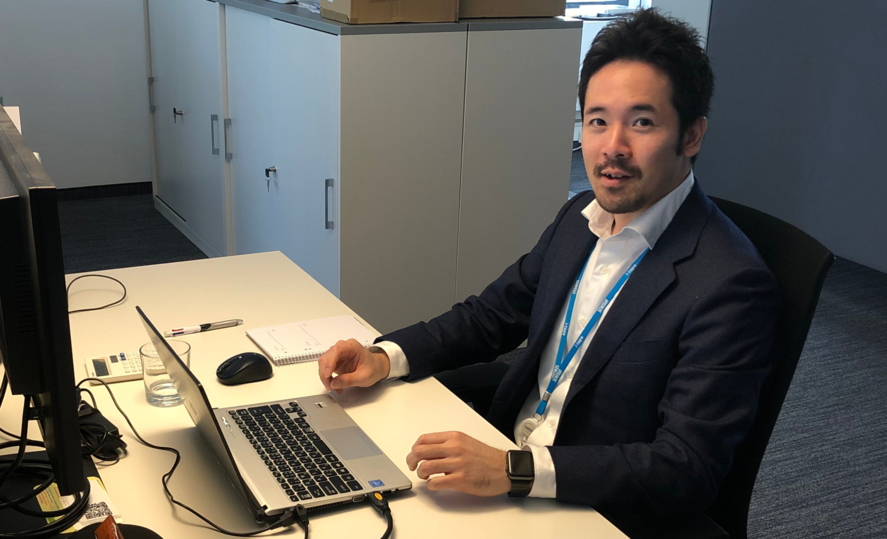 Tomohiro (Tom) Hirayama (Marketing Manager, Automotive and Transportation Marketing Group) is 31 years old and was born in Gyoda – a city located in Saitama Prefecture, Japan. As one of two childs (Tom has one brother), he grew up and went to school in Saitama before he decided to go abroad.
Tom has been interested in different countries and cultures since he was a teenager. "I wished to be surrounded by different nationalities and wanted to live in another country," he explains. After graduating from high school, he moved to California, USA, to study "International Relations: World Trade and Development ".
"Living and studying abroad has been a life changing experience for me. I had lived in Japan for 18 years, so I had not talked to anyone from overseas or even in English. Language was the first challenge I had to overcome. It took me almost 13 months to be confident in English.".
Today, Tom is able to communicate with Japanese and Europeans very easily. "My experience abroad broad me two major things: I am able to express myself in a second language – one key to be successful in a global society. At the same time, I developed a strong identity as Japanese. As not everyone is able to visit Japan, I see myself as a kind of representative of the country!".
After graduating from the university of California in 2011, Tom moved back to Japan and worked as an English teacher for nine months. In April 2012, Tom joined SEKISUI in Japan, with starting at SEKISUI CHEMICAL GMBH in Düsseldorf, Germany, in November 2018.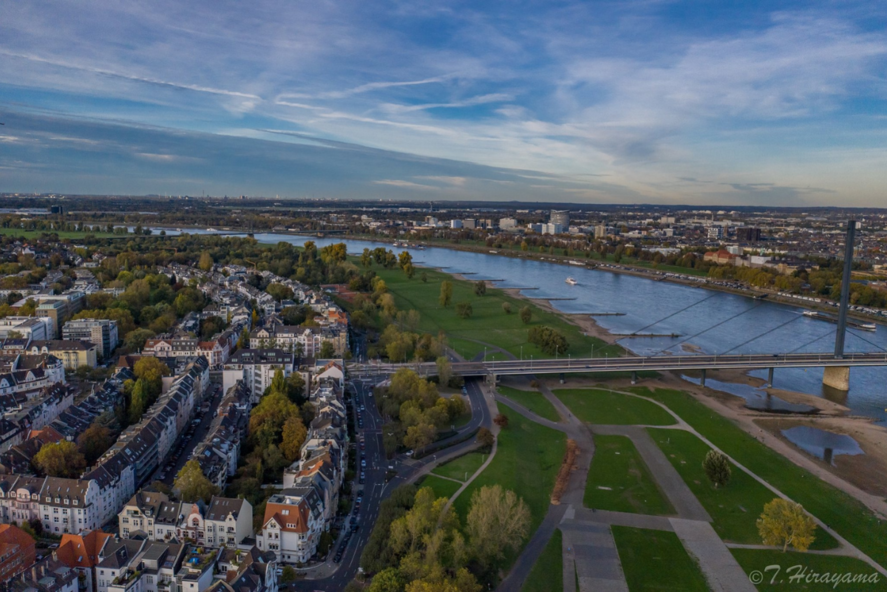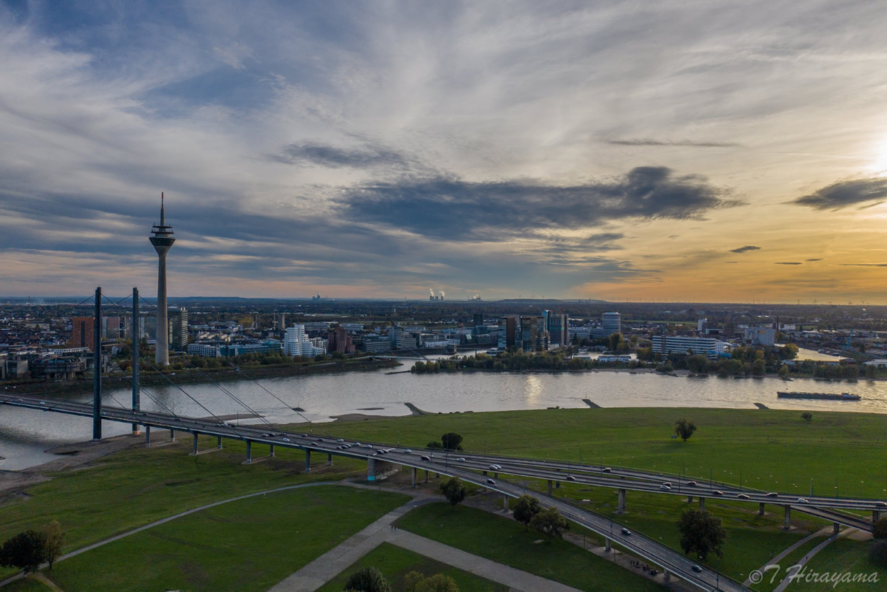 Toms new home: Düsseldorf, Germany
What exactly are your tasks?
My task at SEKISUI CHEMICAL GMBH is to launch a new business in the European automobile industry – by promoting current products and planning product developments to new markets. European car manufactures are the global leader for the automotive market. They actively implement new technologies to their products, and others will follow them. Entering the European market has positive effects to SEKISUI globally.
In 2020, for example, I will be focusing on marketing activities for the special plastics housing with injection molding technologies. As automobiles with an advanced driving assistance system and electronic motors enter the market, the demands for EMI shielding (electromagnetic interference shielding) and light-weight materials rapidly increase.
What do you like about working for SEKISUI CHEMICAL GMBH?
For me, the company plays a central role in entering new markets in Europe. I like the fact that every action is as a step forward and there is a lot of potential to increase sales and profits. On top, we collaborate with different companies within SEKISUI which I also see as a benefit.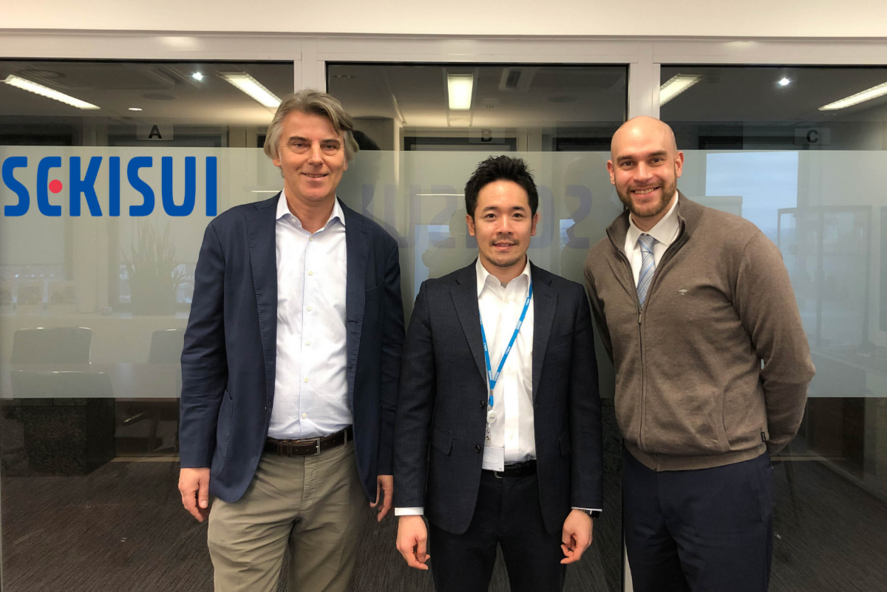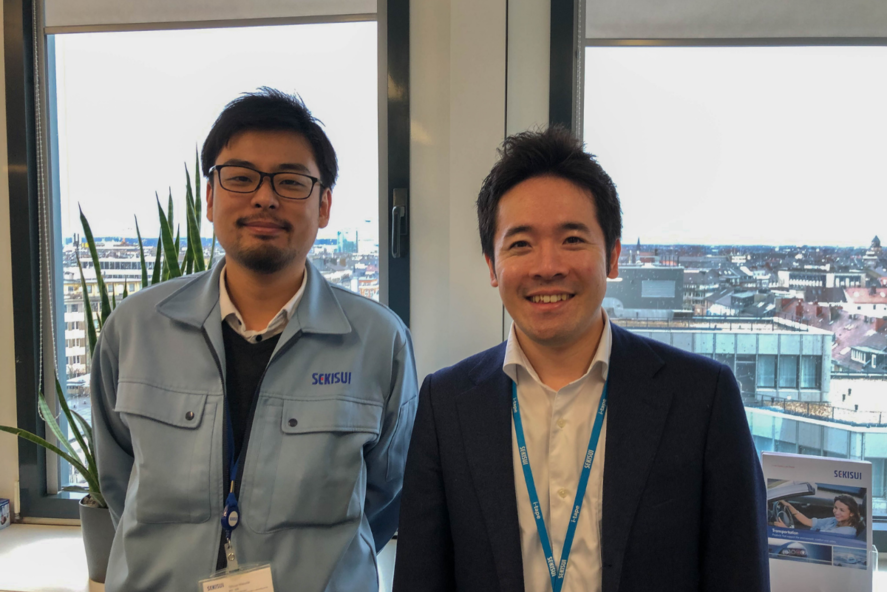 Tom with some of his cooleagues at SEKISUI CHEMICAL GMBH
In how far do Japan and Germany businesses differ from each other?
When I first came to Germany, I had difficulties to express myself. In Germany, words and emotions are often connected to the people speaking – I can literally hear and see their emotions in their words. Sometimes, I felt overwhelmed with the strong and confident attitudes. However, I realized that this direct expression is very straight forward and simple to deal with. Japanese people have the tendency to use indirect wording and hesitate to show their emotions.
I also realize a difference regarding the knowledge levels. Japanese are generalists, while Germans are specialists. In Japan, people often join companies that do not correlate to the subjects they studied, with the companies transferring employees to different departments to provide many types of jobs and people. This is different in Germany. As far as I know, Germans choose their interests for university and later acquire deeper knowledge to become specialized in certain areas.
This different way of working leads to a different mindset towards the range of work and time. As tasks and knowledge often overlap in Japan, colleagues can rely on others when they are absent. In Germany, tasks and responsibilities seem to be rather split – with each employee creating the maximum output for his/her tasks and projects.
Another thing I noticed: The work life balance in Germany and Europe. Employees have a good balance between work and private life. They work efficiently, finish on time and take enough time for hobbies and long holidays. They do not live to work, they work to live.
However, there is one characteristic that I see in both Japanese and German employees: People support each other and never leave a task unfinished.
How does a usual working day look like?
I usually get up around 8 am, leaving home at 8.30 am and arriving at work at 9 am (depending on the traffic, I am going by car). I am not a morning person but starting at 9 am works for me 😊
Due to the variety of tasks no day looks the same. Being the interface between my colleagues in Japan and Europe, I usually have many appointments with potential customers to promote the SEKISUI products and learn more about the customer's needs. While doing so, I am in constant contact with my Japanese and German colleagues but also with many European colleagues such as the new team from SEKISUI POLYMATECH EUROPE.
During lunch time, I try to get a bit of fresh air by going for a walk to one of the restaurants nearby. Sometimes, I also bring lunch. In the evening, I usually finish around 6 pm, I like to explore the many eating opportunities Düsseldorf offers. There are some great Japanese places!
What do you do in your free time?
I enjoy taking photographs, reading books, creating videos and travelling to European countries with my wife. On top, I play my ukulele as often as possible.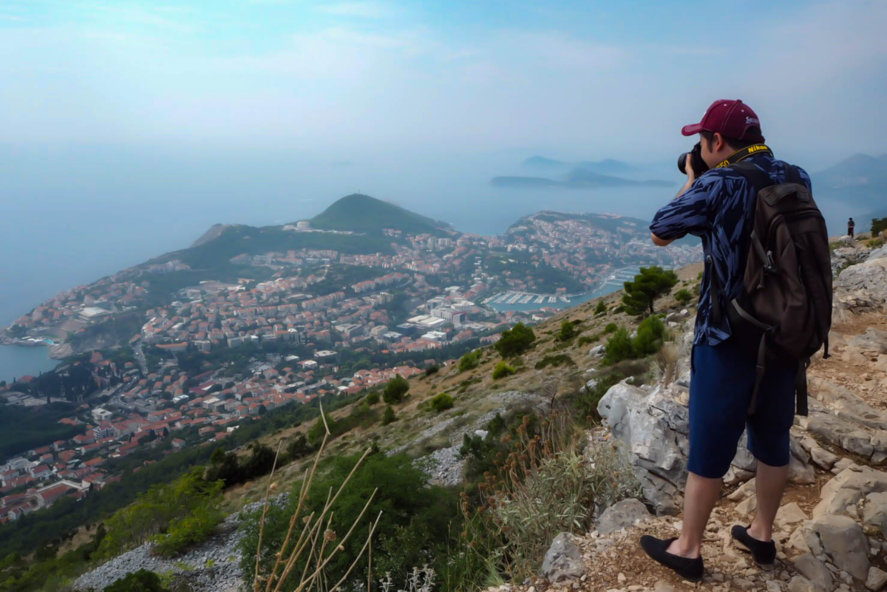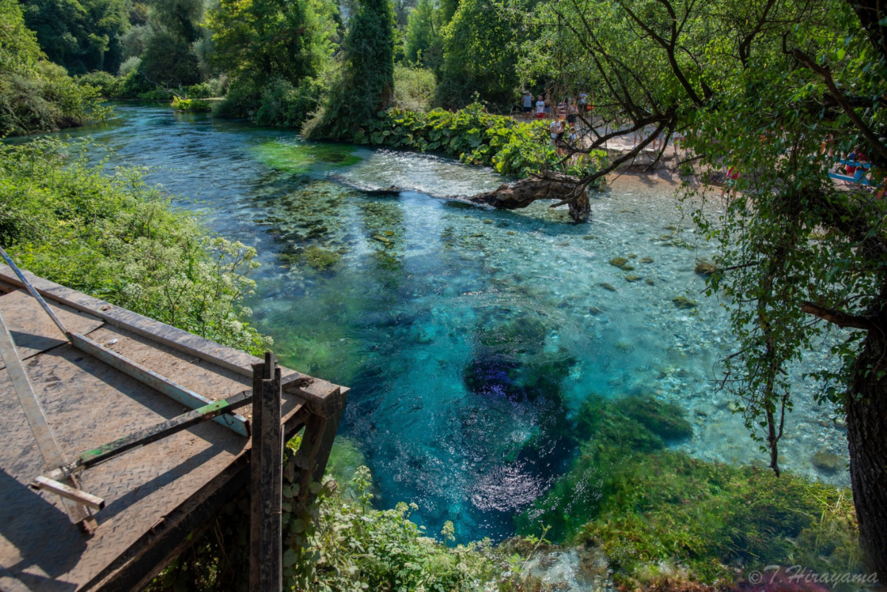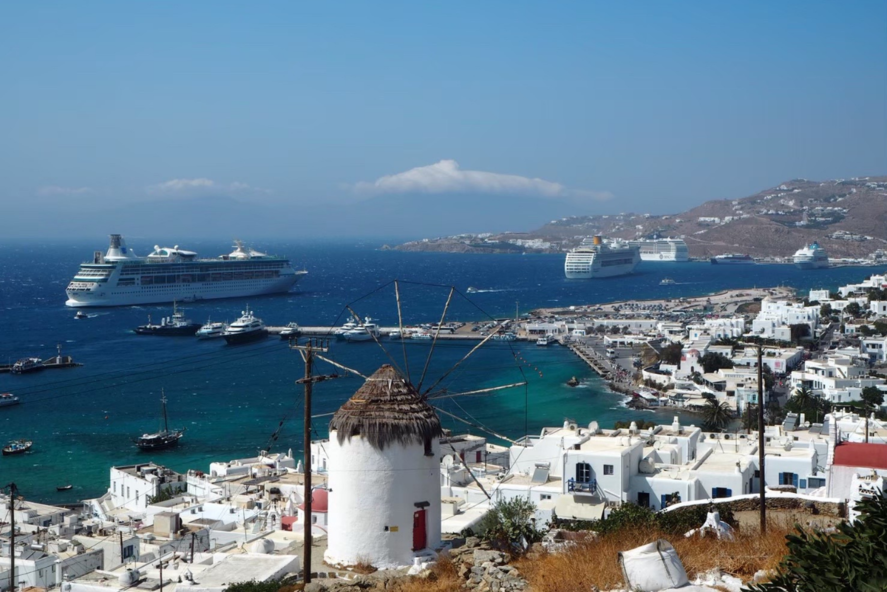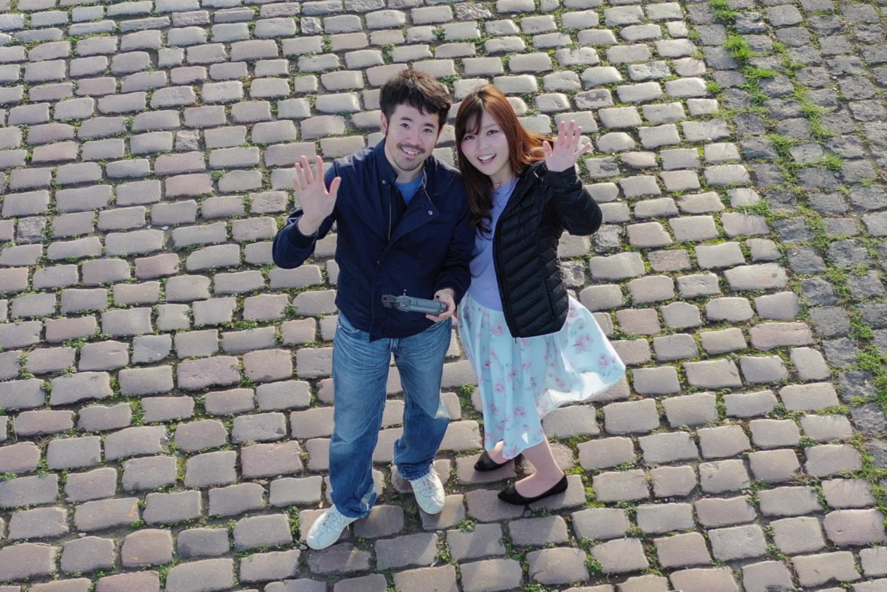 Tom enjoys exploring new places and holding memories by great photography
What do you take with you when going back to Japan?
There are many learnings I will take with me. On a business level, I will know a lot more on methods to enter new markets and the European market itself. Working globally enables me to adjust to the global standards. In my opinion, this is an important step to further globalize SEKISUI.
When going back to Japan, I will have learnt about the European way of working. I like the idea to create the maximum output while not being stressed out and having enough time for oneself.
On a solely private level, I hope I will go back talking three languages: Japanese, English and German.