SEKISUI PIPE RENEWAL develops product configurator for customers
An intact underground infrastructure is indispensable to our daily live. Supply and drainage processes are running underneath our feet without us ever noticing. However, even reliable tubes and pipelines need to be restored. This needs be done quickly and in a way that it does not disturb the environment, urban life or traffic. SEKISUI PIPE RENEWAL (part of SEKISUI CHEMICAL GMBH) is an expert for trenchless pipe rehabilitation and developed a handy tool for planning any kind of pipe rehabilitation projects.
---
---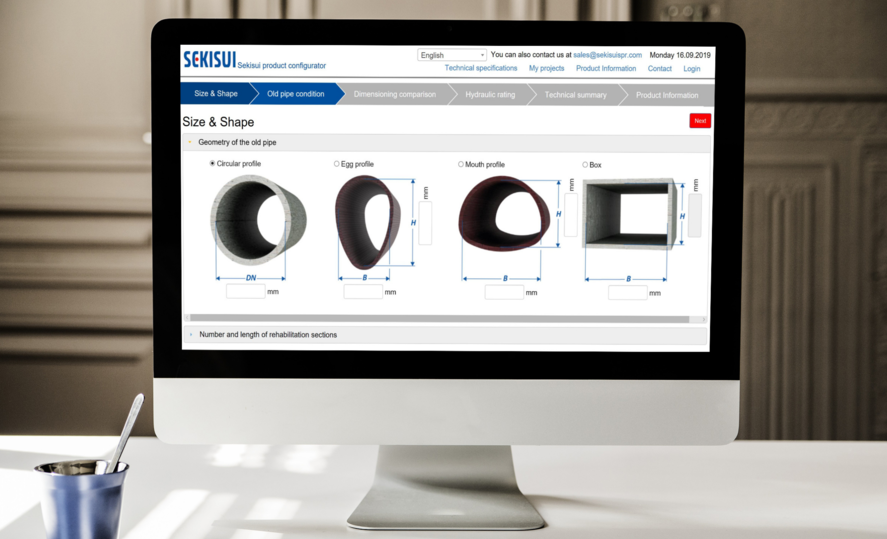 Customer first
SEKISUI PIPE RENEWAL offers a total of four different methods for trenchless pipe rehabilitation, differing in possible profile shapes, diameters and condition of the old pipe. Even if pipes are difficult to reach, if there is a critical timing or if special care of the environment around the pipelines has to be taken care of – the SPR™ spiral‐wound pipe method offers tailor‐made solutions for the rehabilitation. To find the best rehabilitation technology and to demonstrate the technical possibilities of different solutions, the company has developed a product configurator.
Unlike a classic product presentation or a website, the configuration process does not start with a product portfolio but with the customer's problem. At first, local conditions and technical details for the pipe rehabilitation can be entered. The tool then provides product recommendations and up to three possible methods. It also checks the technical feasibility and estimates installation efforts and required material. The customer is being guided through all necessary steps and information. And at the end, a quotation can be requested, if desired.
The perfect answer to every inquiry
The free of charge product configurator is available at app.sekisuispr.com and accessible to anyone. The tool offers the perfect answer to every inquiry and if customers are not familiar with the SPR™ spiral wound technology, it is possible to skip technical specifications. The customer gets a satisfying solution along with product recommendations and process alternatives; and is able to compare advantages and disadvantages for own repair processes. Users who are already familiar with the technology can request detailed queries for their budget allocations. Another advantage: Creation of personal profiles and saving projects to have access to them at every time are possible as well.
Have a look at the configurator (available in English, German, French, Spanish and Russian): app.sekisuispr.com