Hidden Heroes: SPR spiral wound technologies
A fast and sustainable rehabilitation procedure for leaking pipelines
SEKISUI offers a comprehensive product range in Europe, which is a vast array of innovative high-performance materials for applications in four different business sectors: mobility, electronics, medical and construction & infrastructure. With the series "Hidden Heroes", we are taking a closer look at SEKISUI's portfolio and offer deep but simple insights into the products of the European companies. This time, the SPR spiral wound technologies are introduced.
---
---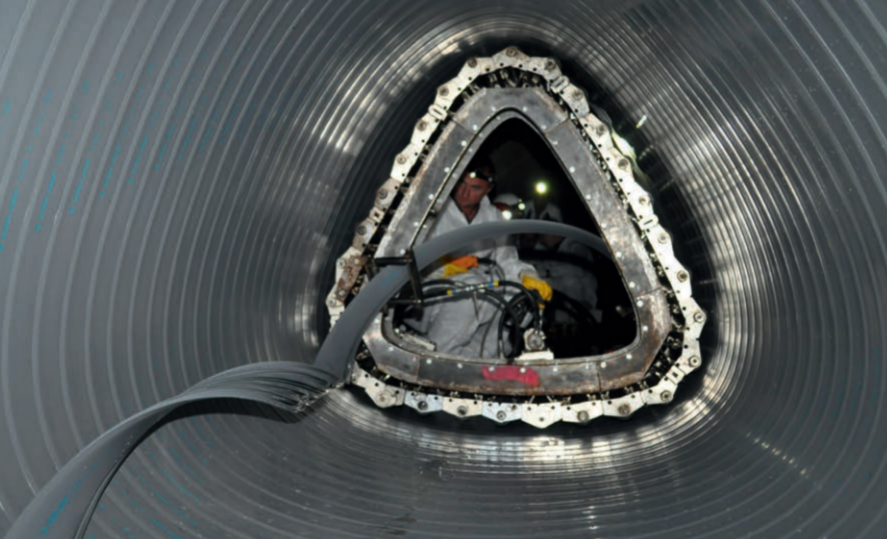 Benefits for a modern and sustainable society
SEKISUI's spiral wound technologies are a high quality, cost effective and sustainable solution for the rehabilitation of deteriorated or leaking pipelines.
Modern city life can only exist with an intact underground system and with pipelines that are safe for everything they carry inside. As a result of age, growing population and increasing traffic and waste, pipelines tend to deteriorate though. Deposits, leaking joint cracks and corrosion can cause environmental hazard or loss of valuable resources such as drinking water, gas and oil.
Instead of replacing old sewer pipes with new ones, public and private network owners increasingly aim to restore pipeline systems with regards to a sustainable and environmentally friendly urban development – and decide for SEKISUI. When using trenchless technologies like the award‐winning SEKISUI SPR technologies, expensive, time-consuming and noisy construction works are avoided as it repairs pipes in less time and without major infrastructure damage or traffic disruptions.
Would you like to learn more? Have a look at this video:
Unique, providing customized structural solutions
There are various methods for trenchless pipe rehabilitation within the SPR product range, differing in pipe profile shapes, diameters and conditions of the old pipe. The SEKISUI technologies offer solutions for any kind of ordinary and extraordinary dimension up to 5500 mm. With the use of a special winding machine, a new profile out of PVC or HDPE is formed inside the old pipe. The result is a loadbearing, homogeneous and new watertight pipe system. Even if the pipes are difficult to reach or if there are any other critical factors (like environmental or ground conditions), there is a tailor‐made solution.
For the rehabilitation of gravity networks, SEKISUI offers four different products. The SPR™ technology is one of them, used for large diameter and non-circular shapes.
How pipe rehabilitation with SPR™ works in detail:
1. Before the renovation starts, the pipe profile is scanned with a 3-D laser scan. This measures the exact cross section, which allows to design the optimal SPR™ liner and materials.
2. The construction site is set up quickly and safely. The winding equipment is installed via standard access points without site excavation – neither pipes nor large vehicles are stored at the construction site.
3. The process starts while the profile is winded by a rotating machine to the requested form inside the old pipe and the PVC strips are interlocked to form a new pipe. After the winding process, a bracing system is installed to protect the liner against uncontrolled buoyancy and deformation. The bracing system positions the SPR™ liner in the host pipe according to engineering specifications and thus ensures the appropriate wall thicknesses.
4. In most cases, the last step is the injection of a special high strength grout into the defined annular space between the host pipe and the spirally wound PVC profile – resulting in a high‐quality concrete pipe with an inner and highly resistant lining.
The SPR technologies are provided by SEKISUI CHEMICAL GMBH. From preliminary planning to execution and support, SEKISUI CHEMICAL GMBH provides the materials and all necessary technical services for the SPR spiral wound technologies.
Explore more in the SPR product configurator.