Asaka Lead Town finalized
Collective power of SEKISUI
Just three years after construction started, Asaka Lead Town's infrastructure and all its buildings are complete. 130 houses have been sold and as many as 103 SEKISUI products are used in the modern living complex. Over the last years, SEKISUI has bundled its power to propose a new town and lifestyle to society by developing a safe, eco-friendly and comfortable place for children, adults and seniors.
---
---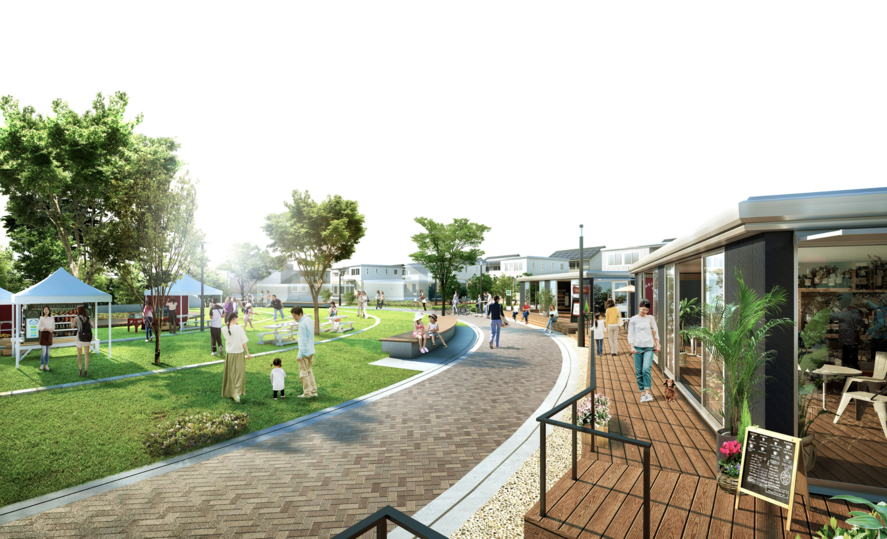 In 2018, SEKISUI announced the plan to regenerate the site of the former Tokyo plant as a new town: Asaka Lead Town. The idea was simple: Through fusion and collaboration of all divisional companies and the corporate headquarters, SEKISUI wanted to make sustainable use of its existing resources and contribute to its own vision of improving people's lives and the environment. Through Group-wide cooperation, collaborations with Asaka City and other business partners like Cainz Corporatuon or Secual Inc., the work on creating a completely new town with comfortable homes, disaster-resistant infrastructure, and IoT technologies began. Three years later, it has become a showcase for the collective power of SEKISUI.

Comfortable and secure: Safe & Sound concept
Asaka Lead Town covers a total of approximately 73,400㎡. The large-scale town is blessed both with green spaces and with convenient housing, commercial, and nursing facilities. The town and community development concept has been developed under the claim "Let's stay together: Now and Always" with the SEKISUI Safe & Sound concept.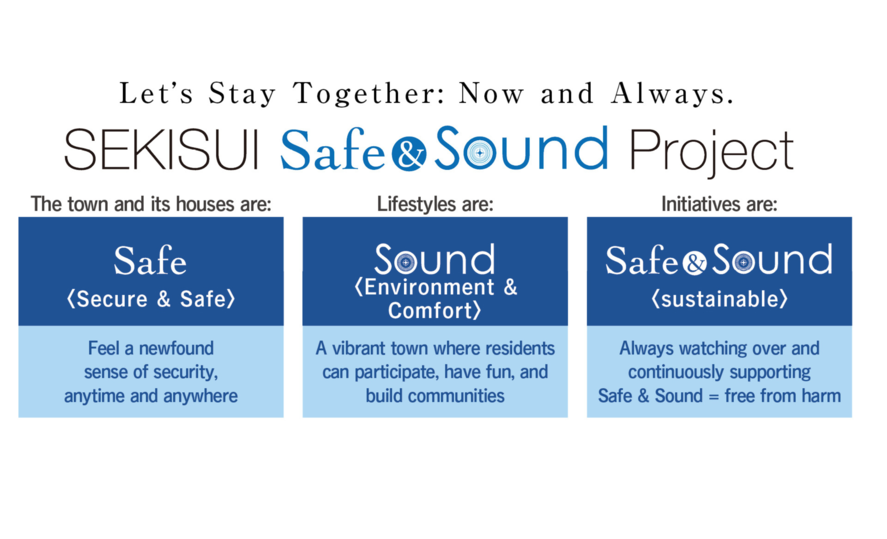 Secure living at all times

In recent years, natural disasters have struck Japan with increasing frequency. Therefore, SEKISUI´s aim was to establish infrastructure with high levels of safety and resilience, so that residents can live securely at all times. Embankments, for example, have been intentionally designed to combat flooding. And the town is protected even underground, with the town's piping using materials with outstanding earthquake resistance and durability.
And the infrastructure is not all. Concierges live on-site and patrol the town. The town's streetlights feature in-built crime-prevention cameras and sensors and home security with disaster and crime prevention allow residents to leave the house with peace of mind.

A convenient living environment
Everyday life in Asaka Lead Town is comfortable – living in an environment where residents can actively support each other and enjoy a positive lifestyle. Two licensed nurseries have been established inside the town, close to the parents' homes. And for the comfort of elder people, the town features a care home that helps to cater the local community's aging population.
Bicycle and car sharing stations have been established inside the town – just one advanced option to share everyday needs. Through a residents-only app it is possible to borrow used equipment such as high-pressure washers, lawn mowers, and electric screw drivers. This app also enables residents to make facility reservations or vote on town improvements.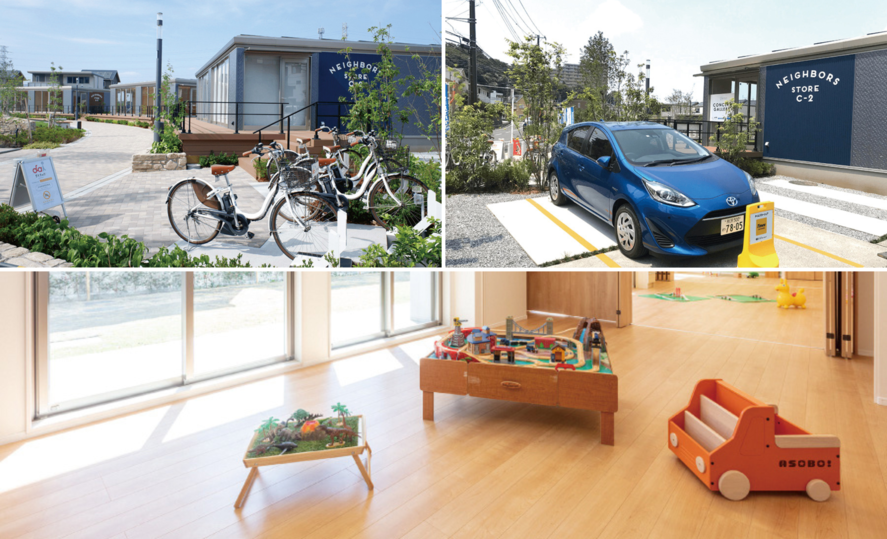 What does the future bring?
Asaka Lead Town features SEKISUI technologies everywhere. Each divisional company thought how it could contribute to the safety, security and comfort of the residents – and made full use of its strengths to create a dynamic town with a variety of services.
The project does not stop there though. SEKISUI's town and community development goal is to maintain and even improve the town's value. And this does not stop by finishing constructions but is an ongoing task. SEKISUI intends to continue undertaking new challenges to provide all Asaka Lead Town residents a life with peace of mind for now and the future.