"I really enjoy the diversity of my job"
Interview with Mart Claessen
Being the youngest employee in his team, Mart Claessen gives insight into his working life at the European Research and Development Center (ERDC) at SEKISUI EUROPE B.V. Working as engineer today, Mart joined SEKISUI as an intern in 2021 and was taken on as employee in 2022. Read our article to get to know his daily work life, and learn about his motivation and the challenges he faces.
---
---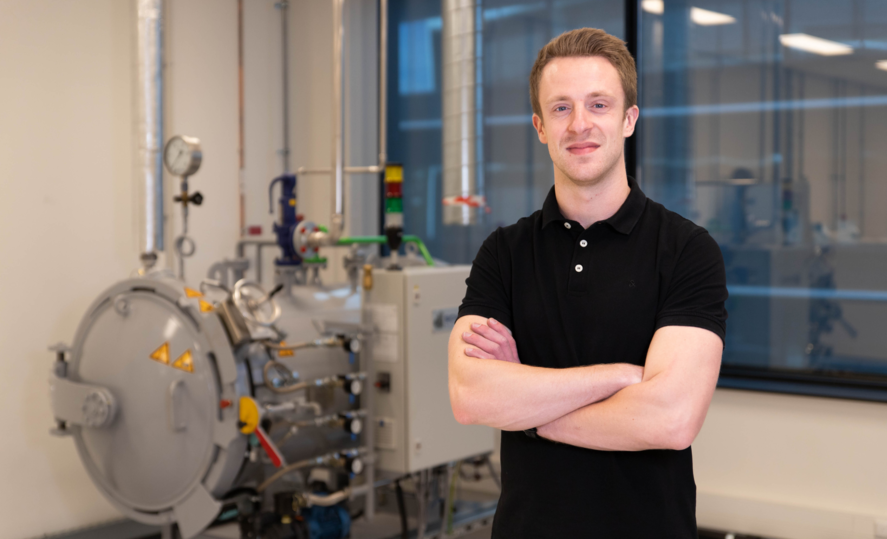 Motivation behind joining SEKISUI
Mart has always been interested in the field of science and chemistry. When investigating temperature adaptive window films for his master thesis, he realised that his research and field of interest aligned perfectly with the interlayer films produced by SEKISUI. He started to look for internships and applied for a position at the European Research and Development Center (ERDC) in Geleen, the Netherlands. The team belongs to the regional headquarters of SEKISUI and aims to develop future interlayer film solutions.
Besides the professional fit, the position also offered another advantage: A multinational team. Mart describes himself as open-minded person who enjoys exploring new cultures. Being the only European amongst Japanese and working with colleagues from all over the world is a pleasant plus for him.
"I can learn a lot from my colleagues"
Mart's workday starts around 9 am, checking his emails and planning the day – usually focused on research and development. "We aim at creating new and sustainable products that contribute to society. With the focus on interlayer film, we are testing to add new functions and benefits to the product, considering new technologies and processes. In order to do so, we carry out a lot of experiments." On top, Mart was helping to set up a new laboratory and office at the Brightlands Chemelot Campus in Geleen last year.
Mart enjoys working for SEKISUI. Besides the interculturality he appreciates the flexibility and diversity of his job. "Every day is different to the other."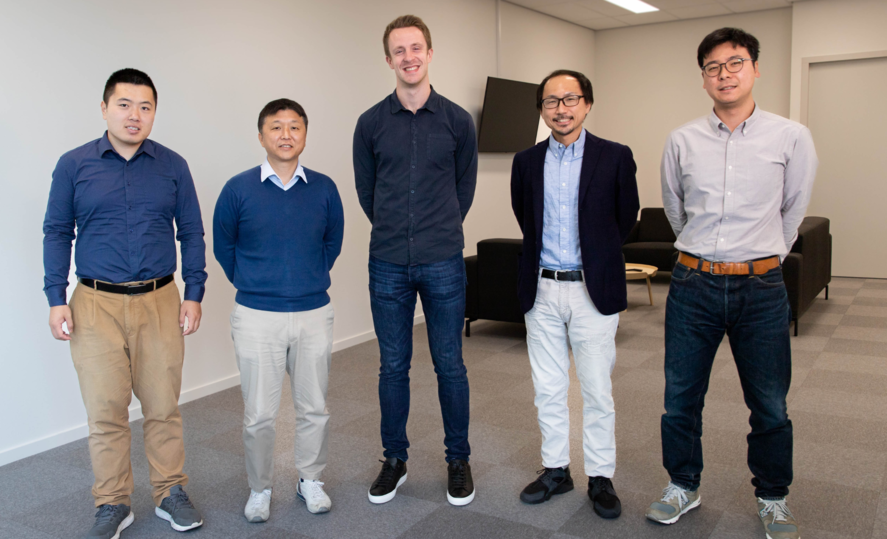 Mart is the youngest in his team. Thinking about the age difference, he only sees advantages though. "I think it is great. I can learn a lot from my colleagues who have been with the company for many years and are more experienced. I am part of the team, and really appreciate the communication and respectful interaction, regardless of age." Not being taken seriously has never been a problem, neither in the internship nor in his permanent position. It is all about mutual respect and teamwork. "The relationship with my co-workers is very good. Most of the time it is professional, but we get along very well and laugh a lot. It's a healthy office environment."
There is one aspect he considers as a challenge though. "Everyone is just too kind". Mart explains that Japanese colleagues can sometimes be so kind and polite, that he actively needs ask for improvement points.
Connection to Vision 2030
When asked about what aspects of SEKISUI's long-term vision connect with him, Mart names "changing society through innovative products and services". He believes that innovation can have a positive impact on the world – not only on SEKISUI's growth but also on everyday comfort and environment. Even though R&D activities produce waste, he thinks that innovation can help save the environment on a much larger scale. Mart also sees a connection between ESG Management (Environment, Social, Governance) and his work. "We deal with ESG almost every day, for example with (chemical) waste disposal or government regulations. ESG plays a very important role in my day-to-day activities."
Exploring cultures – not only in the job
In his free time, Mart enjoys playing volleyball and spending time with his friends at the weekend. He is also a travel enthusiast and likes backpacking. He went to see Thailand and Vietnam with his girlfriend, their next destination is Mexico. "I would like to travel the world, exploring all the different cultures and trying all types of local dishes."