SEKISUI POLYMATECH EUROPE starts production in the Netherlands
Mass production of thermal interface materials for the electric vehicle industry
SEKISUI POLYMATECH EUROPE B.V. (hereafter SEKISUI POLYMATECH EUROPE), headquartered in Roermond, the Netherlands, is commencing production of thermal interface materials for automakers, battery manufacturers and producers of powertrains and chassis components. SEKISUI POLYMATECH EUROPE as part of the SEKISUI CHEMICAL Group will serve the increasing demand for thermal interface materials at a time when sustainability and safety are more important than ever for the automotive sector.
---
---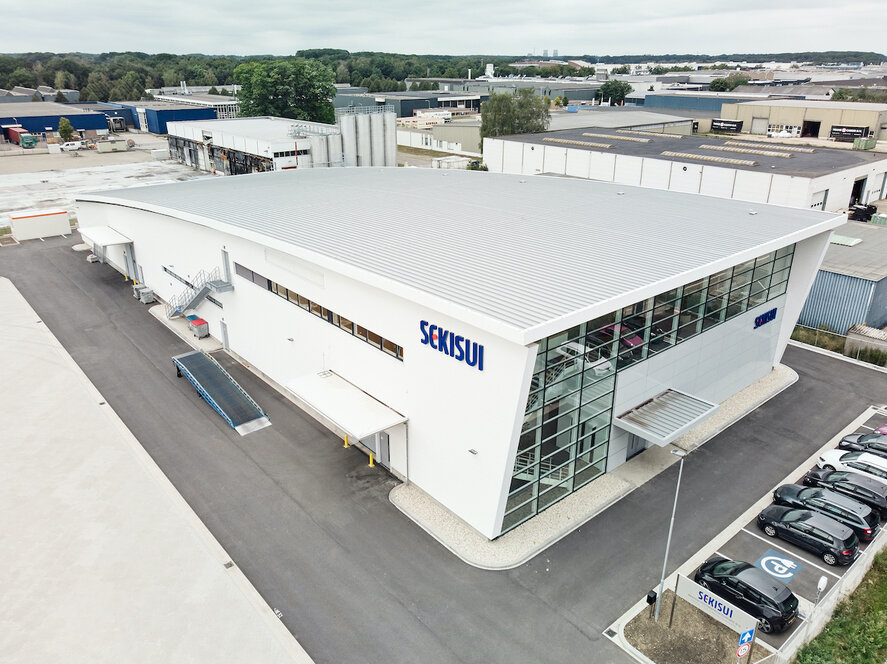 SEKISUI POLYMATECH EUROPE starts production in Roermond
OEMs (original equipment manufacturers) in Europe are developing large numbers of environmentally friendly vehicles such as electric and hybrid vehicles. It is anticipated that 12.5 million of these vehicles will be produced for the European market by 2025. This trend shows that the demand for heat-dissipation products for the lithium-ion batteries used in such vehicles is set to rise rapidly.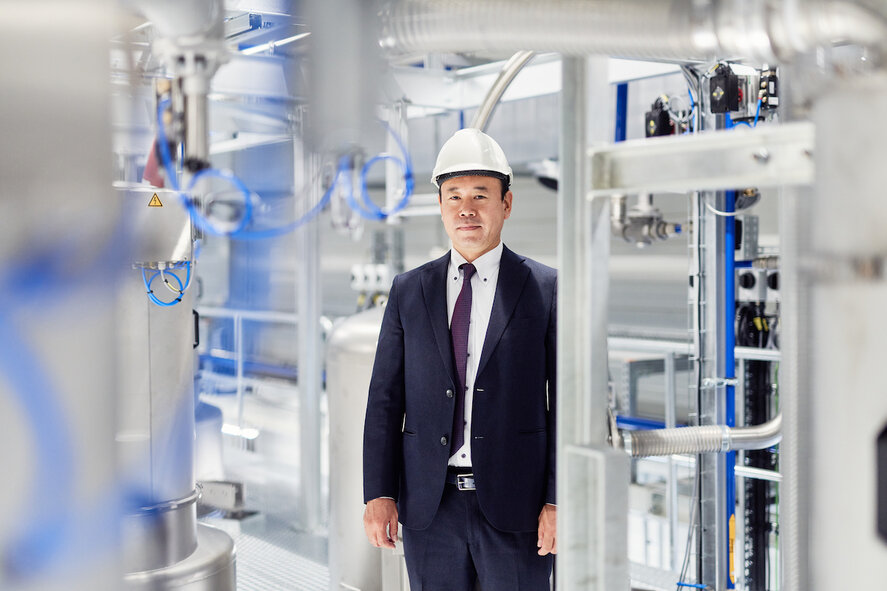 Makoto Sambongi, Managing Director of SEKISUI POLYMATECH EUROPE B.V.
"Until now, elements for electric vehicles such as those for lithium-ion batteries have been made largely in Asia. Our focus is on local manufacturing," says Makoto Sambongi, Managing Director of SEKISUI POLYMATECH EUROPE. The construction of the plant started in spring 2019, laying the foundation for efficient and sustainable production for materials such as heat-conductive greases tailored specifically to customer needs. A total of 1.6 billion yen (approx. 12.3 million euros) has been invested in the company and plant to deliver faster service for European customers and the broader market. The aim of this investment is a roughly threefold increase in the global production capacity for SEKISUI POLYMATECH CO., LTD. Furthermore, the company is striving to achieve revenues of 10 billion yen (approx. 80 million euros) in its thermal management business by 2022.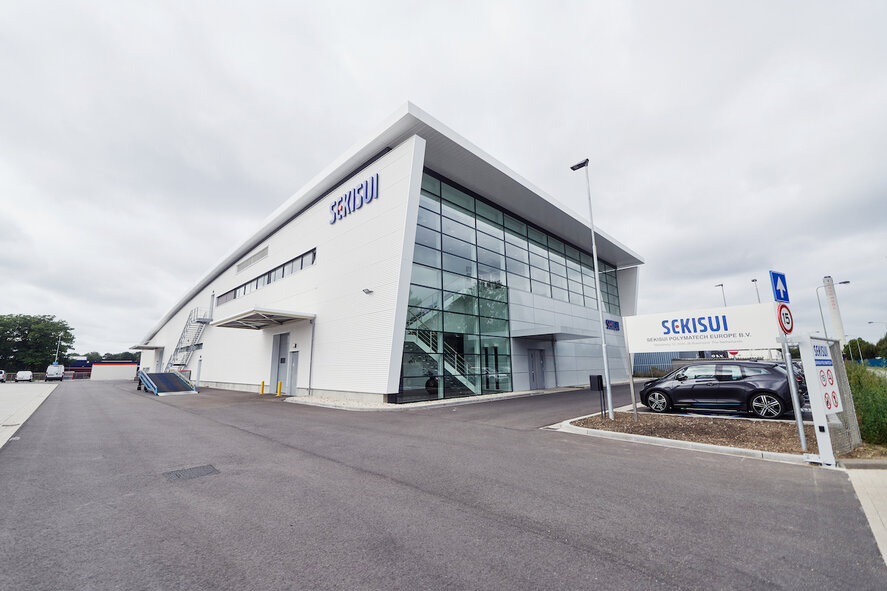 SEKISUI POLYMATECH's new production plant in Roermond, the Netherlands
In 2018, SEKISUI CHEMICAL CO., LTD. decided to enhance its production capacity by building a new plant for thermal interface materials in Roermond, the Netherlands, in addition to three existing production bases in Japan, Thailand and China. The production for the European market starts in September 2020, at a 1977 square-meter facility focusing on grease-type thermal interface materials. The production process is unique and has been designed by SEKISUI POLYMATECH EUROPE, providing a consistent quality level and risk minimization through full automation. On top, the automated production will run entirely on electricity – with no consumption of water, gas or fuel. Aiming at a high-volume production, the facility has the capacity to produce material of around one million litter, grease for approximately 500,000 electric and hybrid vehicles.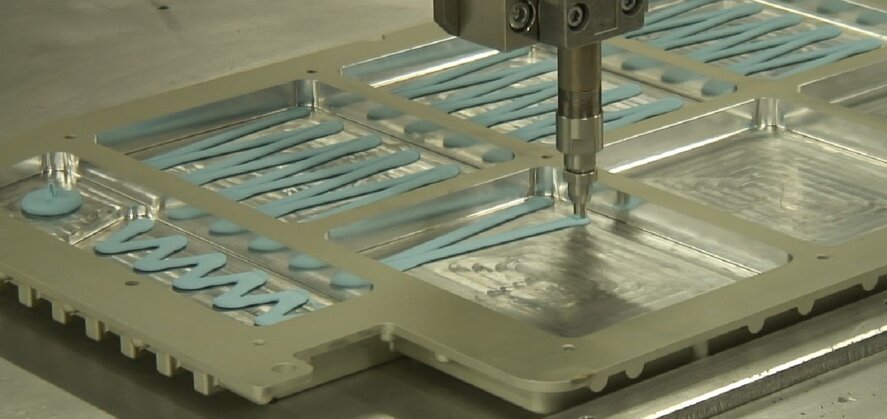 SEKISUI POLYMATECH EUROPE's CGW 2-component grease in application
Tailormade and sustainable products raise safety
Thermal interface materials are inserted between two components to improve the thermal coupling between them and are generally used for heat dissipation. The products from SEKISUI POLYMATECH EUROPE do not only offer high thermal conductivity but are exceptionally wear resistant for dosing equipment and there is very little degassing from the product itself.
The production facility in Roermond focuses on grease-type thermal interface materials, the CGW series, which can be individually adapted to customer needs. Particularly noteworthy in this respect are the characteristics of the CGW 2-component grease, which can be injected, formed, and compressed. Additional characteristics such as endothermic and electromagnetic absorbing can be applied based on a customer's development request. For sheet-type thermal interface materials SEKISUI POLYMATECH EUROPE offers development support functions which allow to adapt thermal sheets to OEM demands and processes.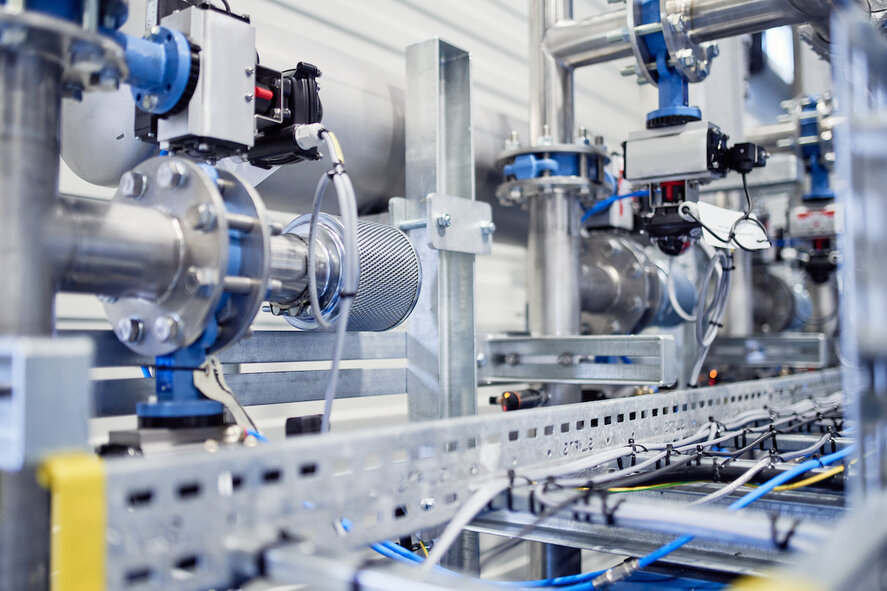 Automation example in SEKISUI POLYMATECH EUROPE's production
"The number one priority for SEKISUI POLYMATECH EUROPE is the safety of our customers and employees as well as environmentally friendly production of sustainable products," explains Makoto Sambongi, Managing Director of SEKISUI POLYMATECH EUROPE. "Not only are these factors crucial to our competitive success on the European market; sustainability, environmental protection and safety are also values anchored in the corporate identity of the entire SEKISUI CHEMICAL Group. We develop products that make life easier for our customers." As lithium-ion batteries for environmentally friendly vehicles remain in very high demand and are continuously improving, automakers are always looking for experts able to solve battery problems caused by heat. SEKISUI POLYMATECH EUROPE is such an expert. "We are using our know-how to generate new solutions and to develop products in line with customer needs," sums up Makoto Sambongi.