SEKISUI POLYMATECH EUROPE meets high Safety, Environment and Quality standards
The company acquired several ISO certifications and successfully completed the IATF audit
SEKISUI POLYMATECH EUROPE, headquartered in Roermond (the Netherlands), is the newest member of the SEKISUI family in Europe – producing thermal interface materials for automakers, battery manufacturers and producers of powertrains and chassis components. Safety, quality and sustainability are top priorities for SEKISUI POLYMATECH EUROPE, just as for every other SEKISUI company worldwide. The company's performance has now been certified.
---
---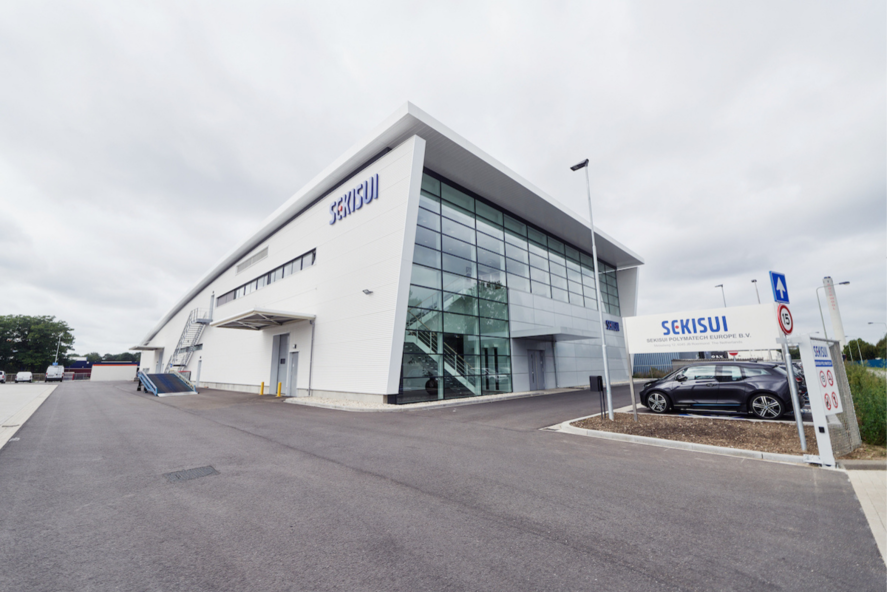 ISO certifications ensure high quality and are important for steady improvement.
ESG (Environment, Social, Governance) Management is positioned at the center of SEKISUI's management strategy. That's why all SEKISUI sites aim to resolve social issues through business activities and to be socially responsible in their business processes.
In general, SEKISUI's plants worldwide are ISO (International Organization for Standardization) certified, meaning they work with international standards to meet customer and stakeholder needs for their products and services. The certification is tested annually, so it helps to keep products and services relevant and up-to-date. SEKISUI POLYMATECH EUROPE recently acquired the ISO 9001, ISO 45001 and ISO 14001. With its production start in only September 2020, the company incorporated standards right from the beginning and in a short period of time. "The parallel introduction of four management systems was challenging but we made it and are very proud of the accomplishment," says Mick Moors, QESH (Quality, Environment, Safety and Health) Manager at SEKISUI POLYMATECH EUROPE. "Achieving all certificates at once was only possible through a strong intercultural teamwork between European and Japanese colleagues as well as the support of other SEKISUI companies."
ISO 9001 addresses the 'Quality Management System' (QMS) based on various quality management principles including a strong customer focus, the motivation and implication of the top management, the process approach and continual improvement. The QMS of SEKISUI POLYMATECH EUROPE is both appropriate and effective while areas for improvement will be regularly identified and approached.
ISO 45001 is about 'Occupational Health and Safety Management Systems' and builds on the improvement of employee safety, reducing workplace risks and creating better and safer working conditions to reduce work-related accidents and diseases.
ISO 14001 certifies 'Environmental Management Systems' (EMS) and specifies the requirements for SEKISUI POLYMATECH EUROPE to provide value for the environment while enhancing environmental performances, fulfil compliance obligations and achieve sustainability objectives.
While acquiring these certifications, SEKISUI POLYMATECH EUROPE is no exception amongst the SEKISUI companies. All European companies are regularly certified for their Quality Management as well as their Occupational Health and Safety Management System. Additionally, and underlying its ESG management, SEKISUI CHEMICAL aims to have the ISO 14001 certification for all production sites worldwide.
Further standard by the International Automotive Task Force (IATF)  
As a supplement to ISO 9001, SEKISUI POLYMATECH EUROPE also kicked off the accreditation process of receiving IATF 16949 – one of the automotive industry's most widely used international standards for quality management. Primary focus is the development of a Quality Management System that serves continual improvement and emphasizes defect prevention and the reduction of variation and waste in the supply chain.
Implementing IATF 16949 ensures that customers in the automobile business receive consistent, good quality products and services, which in turn may bring further business benefits. With passing the first IATF audit in April 2021, SEKISUI POLYMATECH EUROPE did the first step towards IATF 16949, as the certificate will be awarded one year after the process started.
Needless to say: All SEKISUI companies in Europe who are manufacturing products for the automotive sector have the certificate IATF 16949, provided by the International Automotive Task Force. These are SEKISUI S-LEC, supplying interlayer films for car windshields or side-, back- and roof-glazing for passenger safety, and SEKISUI ALVEO, providing polyolefin foams with superior technical performance and easy converting properties.
Due to the close cooperation of the European companies, SEKISUI POLYMATECH EUROPE could benefit from its affiliates in reaching the IATF standard, like sharing QESH insights and IT knowledge and software tools.