Construction start for new FFU® plant in Roermond
On 21st of July 2021, SEKISUI representatives from Europe together with construction partners held a traditional ground-breaking ceremony for the new SEKISUI plant in Roermond, the Netherlands. Close to the other SEKISUI companies, the new plant will be built by SEKISUI ESLON B.V. and will manufacture synthetic wood for railway sleepers made from long glass-fiber-reinforced foamed urethane (FFU®). After completion, SEKISUI CHEMICAL GMBH will be able to further expand its activities in the European infrastructure sector while reducing delivery times of the top-quality FFU® railway sleepers.
---
---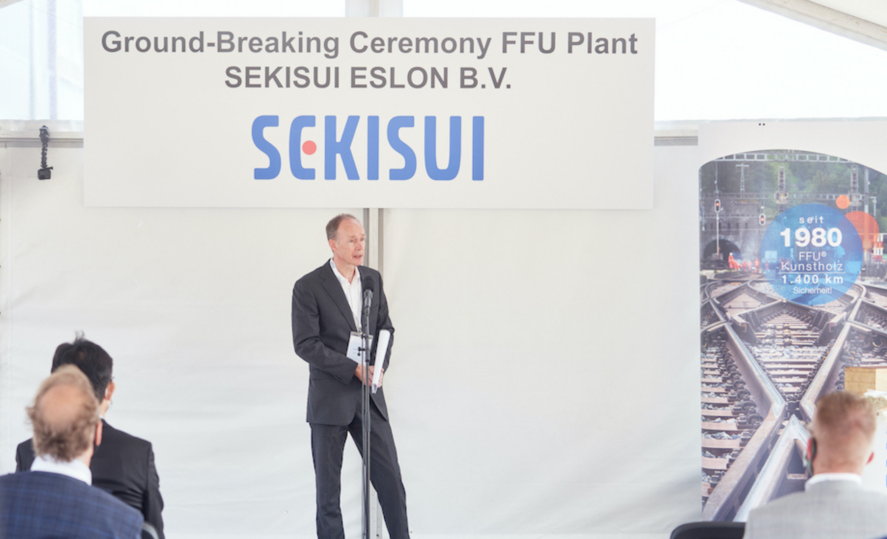 Breaking the ground
To set the project under a lucky star, the start of the plant construction was celebrated with a ground-breaking ceremony. In line with COVID-19 requirements and safety regulations, the event was held outside and attended only by key representatives from the European headquarters SEKISUI EUROPE B.V., the involved companies SEKISUI ESLON B.V. and SEKISUI CHEMICAL GMBH as well as the construction partners Takenaka and Volantis.
In his opening speech, Paul Koopman, Managing Director of SEKISUI ESLON B.V., underlined the benefits for the European business: "By establishing one more factory in Roermond, SEKISUI in Europe will grow by another future-oriented production plant. We will be able to further distribute high-quality and sustainable products and can help to change the European infrastructure for the better".
After the welcoming speech, the official ground-breaking was passed by Hiroshi Kobayashi (SEKISUI EUROPE B.V.), Paul Koopman (SEKISUI ESLON B.V.) and Masayuki Takinami (Takenaka Europe GmbH).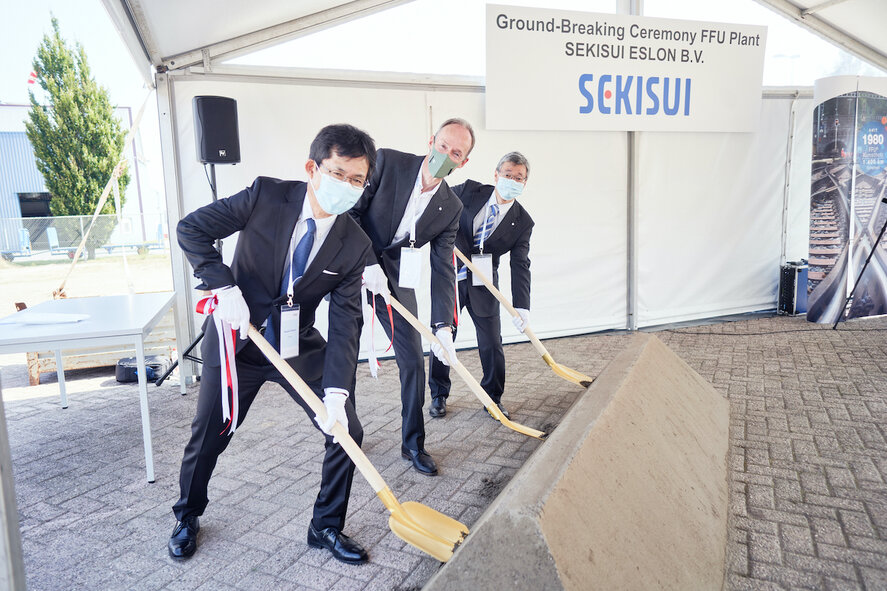 Would you like to learn more about FFU® and the new production? Have a look here!
Some more impressions of the ground-breaking ceremony