SEKISUI: Building a circular economy through innovation and strong partnerships
SEKISUI CHEMICAL continues its way to a circular economy. The latest milestone on the way to a sustainable society is a joint initiative between Shiseido, SEKISUI CHEMICAL and Sumitomo Chemical to establish a circular economy for plastic cosmetic containers, using the BR ethanol technology. This is another great milestone for SEKISUI and its partners on their long way to a new resource recycling system full of innovations.
---
---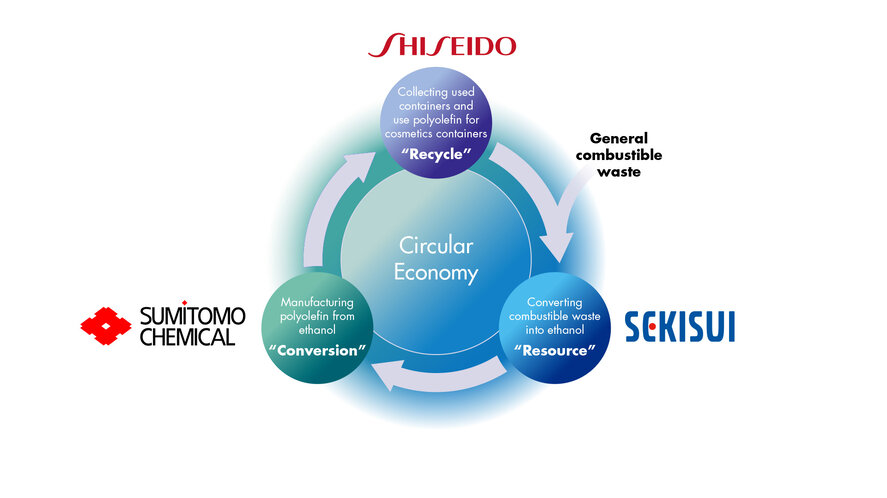 Collaboration with Shiseido and Sumitomo Chemical
Cosmetics containers are made from a wide variety of plastics as their importance is placed on protection of contents, ease of use, and design. Sorting them for recycling is difficult, and recycling them into plastic resources means a significant challenge. To solve this issue, SEKISUI has agreed to work with Shiseido and Sumitomo Chemical to build a circular system – leveraging their respective expertise. Beauty giant Shiseido will introduce a new scheme to collect plastic cosmetics containers through retail stores and use recycled polyolefin for its cosmetics containers. SEKISUI will utilize the "BR ethanol technology" that turns combustible waste into gas without the need for sorting and converts the gas into ethanol using microbes. Meanwhile, Sumitomo Chemical, a diversified chemical company, will manufacture ethylene from that ethanol by using a technology for converting renewable ethanol into ethylene, and produce, from the ethylene, polyolefin products with quality equivalent to conventional polyolefin using fossil resources.
Innovations for a sustainable future
According to its Group Vision, SEKISUI is continuously aiming for the realization of "contributing to people's lives and the global environment" by "resolving social issues through business activities" and "social responsibility in business processes." The collaboration with Shiseido and Sumitomo Chemical as well as the launch of the brand "Unison™", occuring in June 2022, are major initiatives - both aim to represent SEKISUI's biorefinery business, which provides new life to municipal and industrial waste by creating fossil-free ethanol.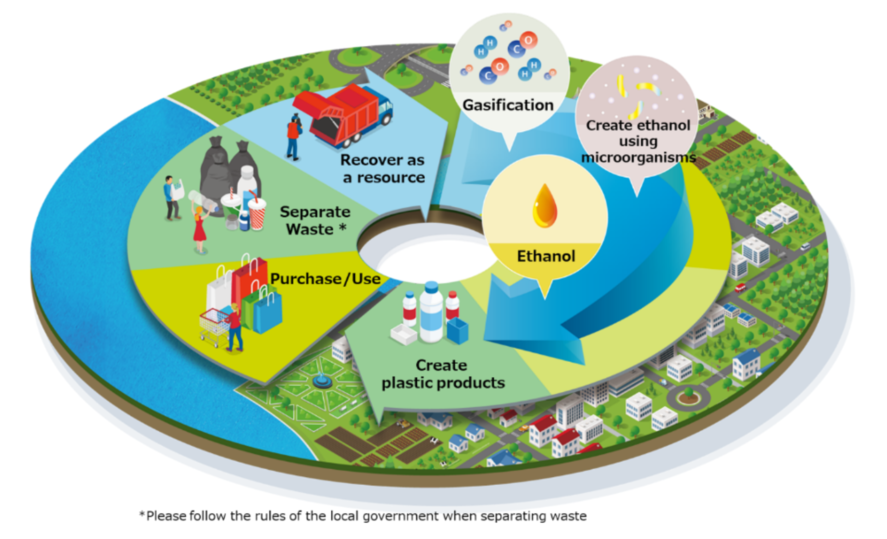 ESG management with tradition
SEKISUIs ESG management (ESG = Environment, Social, Governance) has a long tradition, starting in the 1960s by inventing a whole new waste collection system in Tokyo. This already ensured an excellent reputation for SEKISUI and marked one of the first steps of SEKISUI's ESG management contributing to solve social problems through business.
Today, ESG is positioned at the center of SEKISUI's management strategy aiming to speed up and enhance initiatives in this field. SEKISUI "lives" the idea of continuously creating new and innovative products for the society, and to achieve sustainable growth at the same time. This also implies recycling processes and technologies and noticing waste as a resource. Together with partners such as Shiseido and Sumitomo Chemical, SEKISUI continues the path to achieve the goal of a sustainable society and a new social system for resource recycling.
BR Ethanol Technology: Combustible waste turned into gas
In 2017, SEKISUI CHEMICAL and LanzaTech NZ, Inc. established the world's first successful production technology for transforming waste into ethanol. The new technology gasifies combustible waste accumulated at waste disposal facilities without any sorting. It then converts this gas into ethanol using a microbial catalyst that does not require application of any chemical catalyst, heat or pressure (i. e. without needing additional energy input).
In the same year, SEKISUI CHEMICAL, in cooperation with ORIX Environmental Resources Management Corporation, constructed a pilot plant within the premises of its waste disposal facility in Yorii-machi, Saitama Prefecture, Japan. After over three years of continuous development since 2014, SEKISUI CHEMICAL has succeeded in producing ethanol from collected waste with extremely high production efficiency.
Waste to ethanol demonstration plant
In April 2022, SEKISUI CHEMICAL and SEKISUI BIO REFINERY (SBR) achieved another world's first by completing the construction of the first of its kind demonstration plant in Kuji City, Iwate, Japan – with the aim of demonstrating the viability of the technology that converts municipal/industrial waste into ethanol on a commercial scale. The "Waste to Ethanol Demonstration Plant" was realized with investments from SBR, a joint venture between SEKISUI CHEMICAL and INJC, a private-public fund overseen by the Japanese Ministry of Economy, Trade and Industry (METI). It has also received funding from the Japanese Ministry of the Environment.
The parties use this facility to validate the technology and commercialization and for system optimization. The demonstration plant is approximately 1/10th the size of a commercial plant, and ethanol will be produced from municipal waste sourced from Kuji City, approximately 20 tons per day. In addition to proving the technical feasibility, the demonstration plant aims to show the long-term benefits of resource recycling. It will be open to tours by municipalities, waste management companies, and other interested stakeholders to spread awareness of the new technology and its products. The first commercial-scale facility is targeted to begin production in 2025.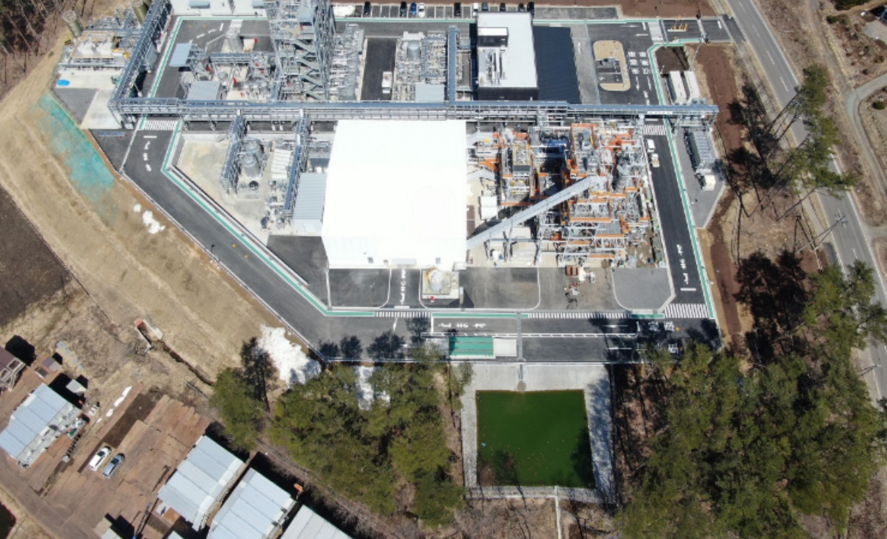 Launch of the new brand UNISONTM
Another milestone on the way to a sustainable society was the launch of the new brand "UNISONTM" in June 2022 by SEKISUI CHEMICAL for the biorefinery business. The name "UNISONTM" stands for "Unique Solution for NatureTM" and represents an unparalleled solution for plastic resource recycling.
Next milestone for a sustainable society
With the newest agreement between SEKISUI CHEMICAL, Sumitomo Chemical and beauty giant Shiseido, the next milestone on the way to a sustainable society can be approached.